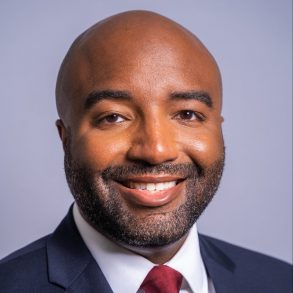 Dr. Bennett has always loved teeth, but it was his two grandfathers' struggles with periodontal disease that prompted his interest in the specialty. Dr. Bennett is a skilled clinician, published researcher and educator who has a wealth of knowledge and clinical experience. He has advanced training and proficiency in not only traditional Periodontal Surgery, but also the newest techniques in Periodontology including bone grafting, Pinhole Technique gum grafting (Non-palatal, stitch-free gum grafting), Tunneling Technique gum grafting (Non-palatal, limited incision gum grafting), and laser assisted dentistry.
Read More
In addition to treating gum and oral bone-related conditions, Dr. Bennett has extensive experience in Implant Dentistry. Dr. Bennett is a two-time graduate of the University of Michigan where he completed his undergraduate (BS) and dental (DDS) degrees. He attended Indiana University for his post-doctoral training in Oral Biology, Periodontology and Implantology. During his tenure there, he served as the Chief Resident. While finishing his post-doctoral training, Dr. Bennett also taught pre-doctoral dental students.
Following his post-doctoral residency training, Dr. Bennett moved to the Pacific Northwest to practice in greater Seattle along with the Tri-cities (Richland) in Eastern Washington. In addition to his private practice in the State of Washington, he served as an Affiliate Clinical Instructor at the University of Washington School of Dentistry. There, he taught post-doctoral residents as they trained to become Periodontists.
In 2017, Dr. Bennett relocated to the DC Metropolitan where he has maintained a private practice. Dr. Bennett is a member of the American Academy of Periodontology (AAP), the American Dental Association (ADA), the Maryland State Dental Association (MSDA), the Southern Maryland Dental Society (SMDS), and is a Diplomate of the American Board of Periodontology. He was born in Indiana but grew up in Michigan and Pennsylvania. While English is his native language, Dr. Bennett was a French and Francophone Studies minor in college and is conversational in the language. He spends his free time working out, reading, and giving back to the community with his wife Melanie.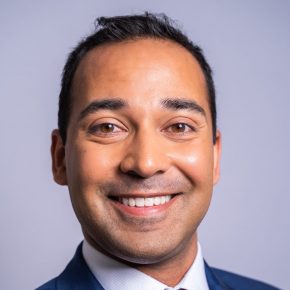 Dr. Saggu grew up in London, Nairobi, and Toronto, and takes pride in his international heritage. His passion for dentistry was nurtured by his father, who practiced as a general dentist. Dr. Saggu is board certified in periodontology and dental implant surgery. He graduated magna cum laude with departmental honors at UCLA with a degree in Human Biology and Society. He continued his education at University of Pennsylvania School of Dental Medicine where he earned his Doctor of Dental Medicine (DMD) degree.
Read More
After developing a keen interest in periodontics, Dr. Saggu completed an additional three years of training at Harvard University School of Dental Medicine where he served as Chief Resident and received his Certificate of Periodontology. In addition to his surgical training, Dr. Saggu earned his Masters of Medical Sciences (MMSc) degree in oral biology, where he validated an optical probe for chairside diagnosis of periodontal diseases. He went on to present his findings at the 2020 American Academy of Periodontology Annual Meeting and was selected as a finalist within the national clinical research competition.
Outside of dentistry, Dr. Saggu enjoys skiing, nonfiction reading, international travel, and practices plant-based living. He is conversational in French.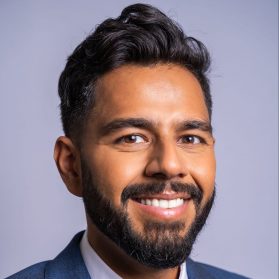 Dr. Sharma, who is board certified in periodontology and dental implant surgery, completed his bachelor's degree in Biology from the University of Maryland Baltimore County. He attended and received his Doctor of Dental Surgery from New York University College of Dentistry. After graduating, Dr. Sharma also completed advanced training in a three-year Periodontics residency program from New York University College of Dentistry.
Read More
As a scholar and member of the American Board of Periodontology, Dr. Sharma is a specialist proficient in the treatment of periodontal disease, gum disease, ridge/sinus augmentation, soft tissue grafting, and implant placement. Dr. Sharma has a true passion for Dentistry and is committed to providing exceptional dental care with patient comfort and satisfaction.